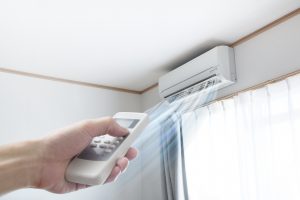 Fujitsu is a company we know and love here in Montana. They build powerful machines that can resist the extreme climate that we deal with, from both the hot and cold ends of the spectrum. When it comes to technology, these systems are the best of the best and we're going to talk about why.
It's criminal how little homeowners in our area know about ductless mini split systems. They're incredibly efficient, effective at keeping homes comfortable, and they can create customizable heating and cooling experiences perfect for many homes in our area. Mini splits in Bozeman, MT should be more popular than they are.
So, in light of trying to inform our customer base more about these amazing systems, we'd like to talk about how they work and why they're so well-equipped to deal with many unique comfort needs.
How They Work
Ductless mini splits are marvels of recent technological innovations in the field of HVAC. They work by utilizing an outdoor cabinet along with up to four indoor air handlers that transfer refrigerant from one another. Instead of functioning with a centralized unit that deposits the cool air into your home through ducts, like a central air conditioner, ductless systems disperse air straight from the air handlers.
That means each air handler can work independently of one another, cooling your home to specific temperatures where you want it. This "divide and conquer" approach actually works more efficiently than a central air conditioner, thus giving it a high SEER rating and putting a smile on customer's faces.
Increased Efficiency
When we talk about increased efficiency in your ductless mini split, we're not just talking about a magically more efficient system. By skipping air ducts and delivering the air directly into your home, ductless systems never leak air that often gets dropped from unsealed air ducts or ducts in disrepair. This means you're getting 100% of the cooled air that you pay for, and you get it exactly where you want it.
Not only are these systems efficient—but they can cool specific rooms to your desired temperature. If you're not using a certain room, then feel free to turn that mini split off and save on cooling costs, while you utilize the one that matters the most!
Split Repair Approach
Let's say you run into some problems with one of your air handlers in the future. This is bound to happen with any air conditioner, but the big difference with a mini split is that the other air handlers can keep functioning while you get the problematic one repaired!
Central AC systems with problems tend to leave your house warm and uncomfortable, where ductless air handlers can function independently of one another. If one has a problem, the others should work just fine.
Call Us Today
These systems are worth every penny. The amount you spend on professional installation for a Fujitsu ductless mini split can often be worth it alone in comfort, cut energy consumption, and operating costs. Just make sure you work with a trustworthy team to get it done right.
Call the pros at Ambient Air Solutions for your very own ductless mini split. Simplifying heating & cooling.