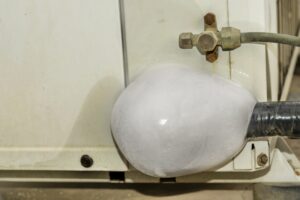 Have you ever investigated your air conditioner when it's not working properly and found a large chunk of ice growing on the coil? Before you give your air conditioner a big hug for working just so well that it made ice, we'd like to take a second to explain this phenomenon. Ice growing on your air conditioner is not a good thing, and we'll explain why.
First, it's important that you understand a little bit about the air conditioning process. We'll cover how refrigerant works to cool your home and then talk about why ice might form when there's a hiccup in that process. Just remember that when you need professional air conditioning repair in Big Sky, you call our team to address the problems in your system.
Ice build-up requires air conditioning repairs. Come straight to us and we'll figure this problem out quickly and effectively.
Read more