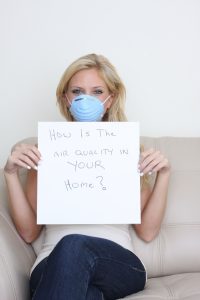 Indoor air quality (IAQ) is an issue that's on the minds of more and more homeowners. Even in Montana, many homes suffer from poor IAQ. In fact, studies have shown that the air inside a home can be 3-5 times worse than the outside air!
Especially concerning is the frequency of wildfire smoke in our area. Montana has seen an increased number of days with poor air quality due to wildfires. Wildfire smoke can spread from burn areas that are hundreds of miles away.
If you've been wondering how your home could benefit from whole house air purifier services, keep reading to learn more about the solutions we offer.
The Problem with Portable Air Purifiers
Available at just about any big-box store, portable air filters have their limitations. For one thing, it can be difficult to know what brands are reputable and which are knock-offs. You also need to be able to determine what size of particulate matter the air purifiers can eliminate. Some may be more effective than others at capturing the tiny particles that are dispersed by wildfires.
You also need to have an air purifier in just about every room of your home. Not only would this be an expensive upfront cost, but the filters are an additional expense. They also need to be replaced frequently when they're trying to capture the contaminants that come from wildfire smoke.
The Danger of Wildfire Smoke
The smoke that enters your home from wildfires is particularly harmful. That's because it contains cancer-causing particulate matter (PM) from burnt trees, vegetation, and building materials. Particulate is a general term for a mixture of solid particles and liquid droplets found in the air. Because the particles are so small, it's difficult for single-room air purifiers to effectively filter them out. Here's what's in wildfire smoke:
Carbon monoxide, carbon dioxide, and particulate matter
Chemicals such as aldehydes, acid gases, ozone, sulfur dioxide, nitrogen oxides, benzene, styrene, metals, and dioxins.
Particles from wildfire smoke are incredibly small with diameters of less than one micrometer. Because of their small size, they can easily get deep into the lungs and the bloodstream.
The young and the elderly are particularly prone to health issues resulting from the inhalation of wildfire particulate matter. Health problems can be something as mild as eye and respiratory tract irritation. But continued exposure can lead to the exacerbation of heart and lung disease and even premature death. People with asthma, COPD, heart disease, and lung disease should take extra precautions to avoid exposure to wildfire smoke.
Whole House Solutions
When you're looking for indoor air quality systems from brands like Aprilaire, Fantech, and Honeywell, we're the contractor you can turn to. We provide a 100% satisfaction guarantee on our services, our technicians are NATE and EPA-certified, and have superior training when it comes to recommending and installing air filtration systems.
Contact Ambient Air Solutions today for professional air filtration installation in Gallatin County, MT. Simplifying Heating & Cooling!