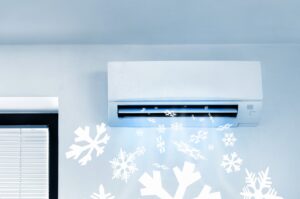 Absolutely not! We want to be very clear that we're always around to provide maintenance to systems that need them, especially high-quality ductless units. But the truth is that things are more complicated when it comes to ductless heat pumps, and maintenance services in general, so we figured it warranted a blog to discuss some of the more interesting details of this kind of service.
Firstly, if you're wondering how often your ductless AC in Bozeman, MT requires maintenance, it's twice a year. More on that later.
But then if your next problem is identifying the best times to invest in maintenance, that would be spring and fall. However, as we'll discuss down below, late maintenance isn't necessarily that much worse. It's more about convenience than it is about the integrity of your ductless HVAC technology. So, keep reading so we can discuss this in greater detail!
Ductless Systems Require More Maintenance
This might seem like a bit of a selling proposition coming from an HVAC company, but we urge you to stick with us. We wouldn't tell anyone to invest in a service they didn't need, especially one twice a year. But there's an actual scientific point to why ductless units require twice as much maintenance as a central air conditioner or a standard conventional heating system.
The reason is quite simple–ductless systems are heat pumps. Heat pumps work to both heat and cool your home depending on the season or weather. Essentially, this system has the capability to run twice as long as your conventional air conditioner or heater, which means it's going to put twice as much stress and pressure on the components.
Investing in maintenance twice a year just means that the heating and cooling components are being maintained properly.
The Two Best Times for Maintenance
The two easiest times to invest in maintenance are the springtime and fall. These seasons both have the mildest temperatures between hot and cold, so you're less likely to rely on the unit to keep you comfortable every day. So, if there's a problem that's detected during maintenance, we can address it without putting your home comfort in jeopardy.
Spring and fall are also seasons where we aren't getting called constantly for AC repairs and emergency furnace needs. So, we've got a schedule that's likely easier to work with during these seasons.
Late Maintenance Still Makes a Difference
Did you miss maintenance in the springtime? Well, as you're probably aware, we don't have any reliable methods to help with traveling back in time to schedule maintenance at the time that most people should. However, that doesn't mean you should just wait until next spring.
The important part about maintenance is that it gets done routinely, which means every year, at least twice, for your ductless heat pump system.
So, perhaps this year you invest in maintenance during the summer and winter! There's no shame in that, and as long as it's professional maintenance with a dedicated expert, you're going to get the same benefits that you would investing in the spring or fall.
To invest in ductless AC maintenance, call Ambient Air Solutions. Simplifying Heating & Cooling!