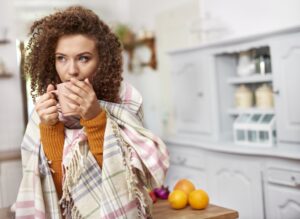 Uh oh, nobody likes to hear the term "cold spots" unless temperatures are balmy and we're in the middle of the summer. But if you've looked out the window recently, you'll know that we're not in the summer and we're almost actually in winter. So, if you're dealing with cold spots in your home, then you're likely looking for a way to get rid of them.
Well, the good news is that the first step towards getting rid of cold spots is acknowledging that you have them! Sometimes, cold spots can be an occurrence in specific types of homes like ones with new additions, large single-paned old windows, and drafty corridors. However, most of the time a cold spot can be attributed to the need for furnace repair in Livingston, MT.
Today, we're going to take a deep dive into why cold spots occur and what you can do about the ones in your home!
Where Are Your Cold Spots?
It's important to identify the areas where your cold spots are. For instance, if you've got a cold spot next to your favorite old, single-paned window, then this shouldn't be much of a surprise. Having high-efficiency, double-paned windows is necessary if you'd like to keep your heating bills low and your home comfortable. These are improvements that you can make to have measurable improvements on your home comfort.
However, if you've got cold spots in areas where there's no good reason to have one, then the issue could be with your heating system. Let's take a look at what you can do about it.
How to Fix Cold Spots
If you've got miscellaneous cold spots throughout your home, here are a few things you can do to try to alleviate them:
Change your air filter. It's always a good idea to start off by replacing the air filter in your furnace. This is a great way to make sure your system is getting maximum power and airflow.
Unblock your vents. You might have a cold spot in your home because the warmth just can't reach it through the vents. Make sure all of your air vents are unblocked.
Investigate the space. Is this a new addition to your home? Then your heating system might not be accurately sized to heat your entire home. This requires professional support.
Get Your Furnace Repaired
If you think that there's a problem with your furnace, then be sure to get it repaired by a professional. Our team can accurately diagnose your furnace's problem and get it fixed quickly and effectively.
Furnace Replacement Might Be a Better Option!
Sometimes, just a simple repair won't cut it. In the event that your furnace isn't sized properly, or it's been giving you cold spots for years, you might need to replace your system in order to deal with this issue.
First, we'd like to remind you that a heating system should always be able to heat every inch of your home. You don't need to deal with cold spots as if they were a normal occurrence. Call our team today to discuss your replacement options and we'll see what we can do!
Call Ambient Air Solutions for help with your cold spots. Simplifying Heating & Cooling.