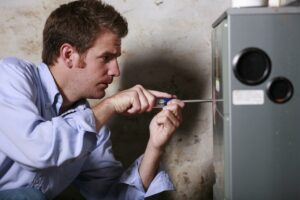 We understand that every online search a homeowner makes about their HVAC system tends to be boring, but that doesn't have to be the case. HVAC work, just like buying a new house, a new car, or a new set of furniture, can be an exciting decision. Different systems can impact your life in different ways, and depending on who you work with, some of these ways can be amazing!
So, we don't want to bug you with the boring stuff. We want to talk about some ways that HVAC in Belgrade, MT can be fun! Between the nifty things a new thermostat can do, to the unique types of heating and cooling systems available to us, let's focus on the great parts about HVAC service.
Don't stress about your next HVAC appointment. When you work with our team, we'll focus on mitigating the negative parts so you can focus on the positives.
Fact 1: A Smart Thermostat Can Make Your Life Easier
People don't often think about their thermostats nearly as much as they think about their HVAC systems. Sure, a thermostat can't really do anything if you don't have a proper heating or cooling system. However, when your HVAC system is properly set up, your thermostat functions as a brain to the whole unit. This means, the smarter your thermostat, the easier your life can be!
Take, for instance, smart thermostats. These systems can learn your lifestyle, when you go to bed or when you get home from work, and easily shift your HVAC system into gear to be effective while you're home and energy-efficient while you're not. This will save you money on energy bills and as a result, will help your system last longer than it would otherwise!
Fact 2: There Are Heating AND Cooling Systems
We still encounter homeowners who either just bought a new home, or who are completely starting from scratch with their comfort technology, who believe heaters and AC systems are completely separate. While this might have been the case twenty years ago, it's not that simple anymore. Some HVAC systems function as both heating and cooling systems throughout the entire year.
Heat pumps as well as ductless mini splits function this way and can be a wonderful option for homes that need a complete overhaul. With this kind of system, you don't need to worry about having your heater and air conditioner separately installed, maintained, and repaired. And, to make things even better, heat pumps are incredibly efficient and are arguably becoming better choices than furnaces. Basically, this could be the perfect opportunity to get a heater and air conditioner all in one!
Fact 3: It All Works Together
Your heating, air conditioning, and indoor air quality all work together. You can't really have one be energy-efficient without the other. For instance, if you don't regularly clean out your heater's air filter, your HVAC system will run poorly. Likewise, an ill-maintained heater could be producing contaminants that will ruin your air quality and cause problems for an air filtration system.
Basically, this could be a great opportunity to invest in a whole-home comfort system. Between air purifiers, air filters, and heating/cooling systems, there are options available to help your whole home feel more comfortable at an affordable price.
Contact Ambient Air Solutions today for comprehensive HVAC work. Simplifying Heating & Cooling.