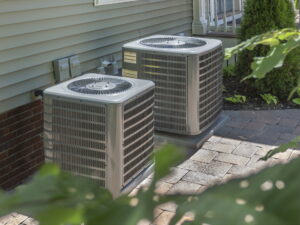 Every HVAC system in Bozeman, MT has to deal with a temperature differential. It's a pretty simple term that we use in this industry to talk about a very specific set of temperatures. As we move into the cooling season, the temperature differential is going to massively impact your home's temperature and your ability to stay comfortable year after year.
While the temperature differential might not matter for certain homes in the winter, it does for us. Our winters are extremely cold, and we can sometimes rely on a heater to fight temperatures that are almost at zero. This massive temperature differential can impact our home efficiency and our budgets.
Keep reading to learn about what the temperature differential is and why it's so important to consider when budgeting for the future! And don't forget to call our team for any HVAC support.
What Is the Temperature Differential?
The temperature differential simply refers to the difference between the outdoor temperature and the indoor temperature. When you're trying to cool your home to 60° this summer, but the temperature outdoors is 100° or more, then you're going to run into some serious issues. A temperature differential of 40° is a huge margin for your air conditioner to fix, and that's going to be reflected in your energy bills as well.
The temperature differential helps us determine what a "mild" form of cooling in your home can be. This will help you determine the efficiency of your air conditioner or heater's output, and you'll be able to accurately set your thermostat.
Why the Temperature Differential Matters
The temperature differential dictates what your home is capable of feeling like during the winter or summer months. Here are a few examples:
In winter, your home should be able to stay relatively safe from cold temperatures, even when they go below zero. However, a large temperature differential might mean turning your thermostat down and bundling up with warm clothes and blankets to avoid an extremely high utility bill.
In the summer, your air conditioner can't effectively cool your home more than 20° below the outdoor temperature. This is why the temperature differential is going to dictate the effective temperature inside your own home!
Ways to Fight Uncomfortable Temperatures
Here are three ways to fight against an uncomfortable temperature differential and to keep your home a sanctuary.
A powerful HVAC system. Maintenance, repairs, and professional services are going to keep your HVAC system in fighting shape. This allows it to be the powerhouse that it should be, and keep your home cool or warm regardless of the temperature outdoors.
Insulation. Insulation helps a lot in keeping warm or cool temperatures indoors while the weather outside is unpredictable. The more insulated your home is, the less likely it is to be affected by outdoor weather.
Best practices. When you open a window, make sure you close it. Try to insulate your door and always remember to close them after you're done using them! These best practices will help keep your home comfortable even when the temperature differential is great.
Struggling to fight the unpredictable temperatures? Call Ambient Air Solutions! "Simplifying Heating & Cooling."