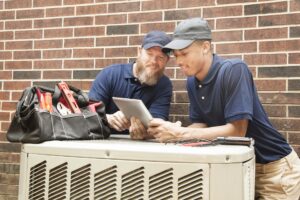 I'm sure you've heard the term "warranty" countless times while watching TV. Nothing makes a homeowner want to turn the television off more than a screaming, used-car salesman shouting about his amazing warranty while you're just trying to watch the game. However, as much as we're not used-car salesmen, that guy on the TV might have a point.
In the HVAC industry, warranties are a well-kept secret. Manufacturers might attach warranties to AC systems so that they're affordable for responsible owners, but they don't really care if homeowners void them or not. It's not money out of their bank accounts after all. We want to encourage all of our customers to keep their warranties for as long as possible.
Today, we'll talk about why warranties are so important and how they help you save on air conditioner services in Bozeman!
Why Warranties Are Worth It
Before we try to teach you how to avoid ruining your system's warranty, we need to talk about why they're so valuable in the first place! So, let's talk about what exactly a warranty is.
A warranty is an added layer of protection on your air conditioner that stops you from being liable for any repairs or additional costs as long as it's being properly maintained by a professional.
What this means is that any problems that could spring up while your system is under warranty and your care, are automatically covered and you don't have to pay for them! They exist to make homeowners feel good about their purchase and not constantly stress about unique situations where a system needs help. They're also a great marketing tool for manufacturers and service providers to help sell products to homeowners that might not otherwise think they can afford them!
If your system has a warranty, it's likely saving you thousands of dollars on repairs and additional costs. Do everything you can to keep that warranty for as long as possible!
Ways You Can Void Your Warranty
Now that we've explained why a warranty is so important, we need to talk about how homeowners can often lose the protection of their warranty. Here are just a few ways that, if you're not careful, you could lose your extra layer of protection and be held liable for costs in the future.
Skipped maintenance. The most common way we see homeowners void their system warranties is by skipping yearly maintenance. Without proper maintenance, a manufacturer or service provider can't be held liable for additional repair costs since the system is likely in worse condition than it would be otherwise.
Non-licensed amateur. If you've thought about hiring an amateur to provide quick fixes on your system, then we urge you to reconsider. Having a non-licensed technician repair your system could void the warranty altogether.
DIY repairs. The moment you open up your system to fix something, you could be voiding the warranty. Remember, only a licensed and certified professional can provide the repairs you need while keeping your warranty intact.
The team at Ambient Air Solutions will do whatever it takes to keep your warranty together for as long as possible. Call us today! Simplifying Heating & Cooling.