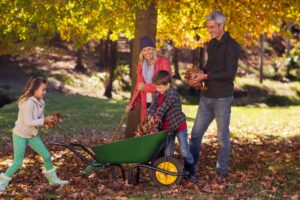 The transition is starting between cooling season and heating season. Or, for many people in our community, the transition is well underway or almost complete. Temperatures are already starting to get chilly at night and it's only a matter of time before we depend on our heaters 24/7. That means you need to put away your air conditioner the right way.
We know that every year is different, and sometimes we're scrambling to get things right during a busy fall. HVAC in Belgrade, MT can be a hassle when other things in your life matter just as much or more. But we want to help set you up for success by giving you the chance to correctly put your system into hibernation so it doesn't get damaged or need repairs before next summer.
So, let's talk about a few ways we can safely and effectively put your air conditioner into hibernation until the cooling season arrives next year.
Your AC Hibernation Checklist
It's important to keep things in good shape going forward. Your air conditioner could suffer from excess wear and tear if it gets covered with dirt, debris, or inundated with flooding water.
These are a few ways that you can help ensure your air conditioner stays in good condition.
Keep Things Clear
We recommend keeping about two feet of space clear around your air conditioner's outdoor cabinet. This is because dirt, sticks, pebbles, water, and leaves can start to get stuck in the vents and cause problems down the line.
Also, this kind of debris serves as the perfect place for critters to make their nest and hibernate themselves. Critters, no matter how cute they might be, can easily damage the components of your air conditioner and lead to an expensive repair next spring.
Use an Air Conditioner Cover
One great way to protect your air conditioner from the elements in our area is with an air conditioner cover. This can be anything from a specially designed cover to a tarp that's snapped over the top of your AC's outdoor cabinet.
Also, the outdoor cabinet of your air conditioner is designed to withstand the elements as long as there aren't hurricane-force winds or other natural disasters. Just keep this in mind when preparing for the weather!
Schedule Maintenance or Repairs
Do you have something wrong with your air conditioner that needs to be fixed? Don't wait until next season, get it fixed now. That repair need can get worse over time and we recommend getting things fixed so that you're ready for the cooling season next year.
Also, if you forgot to schedule maintenance early this year, we recommend getting it now. It's always better done late than never!
Make Sure It's Off
While your heater might be working now, if your AC is still set on standby it could mistakenly turn on during the winter. If we have one warm day, your AC might turn on and accidentally start blowing cool air into your house.
This could lead to adverse effects and problems with your AC system. Make sure it's off entirely for the season.
Ambient Air Solutions can help you put your air conditioner in hibernation, or perform valuable repairs. Simplifying Heating & Cooling