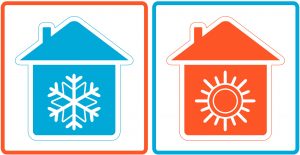 We love our heat pumps here in Montana. They're the perfect solution to our hot summers. They can be wonderful additions to homes and provide energy-efficient solutions that can keep us comfortable. Honestly, if you haven't looked into heat pump technology, we highly recommend it.
For those of us who do have heat pumps, we'd like to talk about one of the leading problems we see with these kinds of systems. As durable and reliable as they might be, there's one common problem that you don't get with a furnace or a central air conditioner—a stuck reversal valve. Near the end of the summer, you might go to your heat pump to switch it from cooling to heating mode, only to be surprised by some reluctance by the unit.
A heat pump in Bozeman, MT isn't supposed to get stuck, and we urge you to call us for repairs. Let's talk about why this happens.