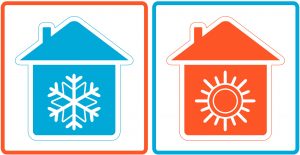 We love our heat pumps here in Montana. They're the perfect solution to our hot summers. They can be wonderful additions to homes and provide energy-efficient solutions that can keep us comfortable. Honestly, if you haven't looked into heat pump technology, we highly recommend it.
For those of us who do have heat pumps, we'd like to talk about one of the leading problems we see with these kinds of systems. As durable and reliable as they might be, there's one common problem that you don't get with a furnace or a central air conditioner—a stuck reversal valve. Near the end of the summer, you might go to your heat pump to switch it from cooling to heating mode, only to be surprised by some reluctance by the unit.
A heat pump in Bozeman, MT isn't supposed to get stuck, and we urge you to call us for repairs. Let's talk about why this happens.
What Happened?
Are you dealing with a broken reversing valve or something else? Perhaps your heat pump is fine, just the thermostat is causing you trouble. Regardless of what the problem is, your heat pump's ability to switch from cooling to heating mode and back is essential. Don't just assume your system has lost its dual functionality for good—call us for repairs and keep reading as we go into why this could have happened.
A Busted Reversing Valve
Don't panic, this is a fairly common problem we see in heat pumps. The ability to switch between cooling and heating mode is often through a component called the "reversing valve." When the reversing valve breaks, your system can lose the ability to change the flow of refrigerant which is ultimately what turns the cooling power into heating power.
Broken reversing valves can be easy fixes to perform for professionals. They're a single small component that just needs to be replaced, which is really good news. The rest of your heat pump, from refrigerant lines to the electrical components, are all probably in good shape if this is the culprit! So sit back and relax while we take care of the hard part.
Uncooperative Thermostat
Thermostats are the brain of your heat pump. If it's not switching modes and is continuing to cool when you want it to heat, it could be due to a faulty thermostat.
Again, this is generally good news in the HVAC industry. Thermostat fixes are relatively quick and affordable fixes that can be made by professionals. The only thing you have to worry about is calling us and refraining yourself from making any fixes yourself. While it might seem like a simple fix to us, it's not that simple if you don't have the background in these types of electronics and comfort systems.
Get This Problem Addressed
One of the main benefits of owning a heat pump is the dual purpose of cooling and heating your home. When your system loses one of these essential abilities, that can be catastrophic for your budget and your comfort. Don't try and do any fixes on your own or hire an amateur to take a look, let us come in and perform the quick fixes that we're experienced with.
Call Ambient Air Solutions if your heat pump is stuck. Simplifying heating & cooling.