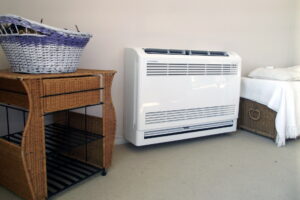 Why don't you take a seat for a little bit? We think it's time we discussed a topic that many homeowners in our area have been avoiding. With cold winters and hot summers, having a year-round solution might sound like a gimmick, but it's a reality.
In this industry, ignorance is bliss. If you don't know how a heat pump works, its unique advantages, and how expensive it is compared to other systems, then it doesn't seem like you're missing out, right? Well, that information could change your life and free you up to do a lot more with your budget than you originally thought possible.
Today, let's talk about heat pumps. We'll discuss the importance of heating maintenance in Bozeman, MT for heat pumps, the advantages of keeping a system like this running efficiently, and whether or not a heat pump could be perfect for your home.
Advantages of a Heat Pump
First of all, heat pumps are absolutely a way that homeowners can stay warm during our frigid winters. They're not some kind of fringe specialized equipment that only specific homes should use, they're widely available for homeowners with regular houses that could use a powerful and energy-efficient heating system. Here are some unique advantages of a heat pump.
Energy efficiency. Heat pumps are notorious for being efficient heating and cooling systems. Since they run on electricity and circulate refrigerant, they're moving heat instead of creating it. This is a much less energy-intensive process!
Safe operation. Homeowners often don't like using gas furnaces because of the combustion element. While we know that gas furnaces are safe, we understand the concern. For anyone trying to avoid combustion heating at all costs, why not invest in a safer system like a heat pump?
Heating and cooling. Heat pumps are both heating and cooling systems, meaning you have access to comfortable temperatures throughout the entire year. Pretty neat, huh?
Electrical operation. While not every home has access to natural gas in our area, pretty much all of them have access to electricity. This is why an electrically-operating heating system can be easier to install than a gas-powered one.
What About Maintenance?
Yes, it's true that a heat pump requires twice as much maintenance as a normal heating system, but that's a little deceiving. Firstly, the only reason why a heat pump requires two maintenance visits a year is because they're both air conditioners and heating systems. That two-in-one approach means they work twice as long as any other comfort system.
Secondly, efficiency is the most important aspect of a heat pump. If your system can't operate efficiently, then it's worse than a gas furnace in every way imaginable. That's why ensuring it gets maintenance every single year is vital to get the most out of your heat pump purchase.
Ready to Get a Heat Pump?
We don't blame you! These systems are becoming exponentially more popular in the United States. Just call our team today and ask about our available heat pump technology and schedule an installation.
Contact Ambient Air Solutions for your very own heat pump. Simplifying heating and cooling.