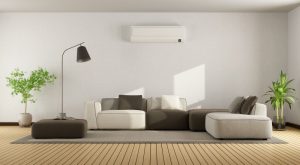 Homeowners have a huge disadvantage when shopping for a new cooling or heating system. Many people haven't considered air conditioning or heating technology in years, decades, or more! So, when they're looking into systems to run efficiently in their home, they tend to heavily weigh the conventional comfort systems over newer, over more advanced systems, like heat pumps.
That can be a problem, especially when heat pumps are proving time and time again to be perfect for certain homes in our area. When it comes to an HVAC system in Livingston, a central air conditioner might not cut it.
If you've ever wondered about what kinds of comfort systems would be right for your home, then you've come to the right place. We've put together a list of some unique advantages that are provided by a heat pump. These advantages make heat pumps perfect for certain homes, so pay close attention to how your home relates to what we're about to say.
Heat Pumps Are Good at What They Do
These types of systems are prime for homeowners with specific comfort needs that need to be fulfilled. We've talked about how a heat pump works, but today we want to focus on what homeowners specifically get by working with a technician to have a heat pump installed. Let's get down to business!
Efficiency
Heat pumps are incredibly efficient. Not just because they run on electricity and can move heat from one area to another, but because of the method by which they do it. Heat pumps require heat to be in the air for them to move it, and in mild climates where temperatures are often bearable, heat pumps can accel at lowering the consumption of energy that a comfort system uses. This also lowers bills for a homeowner, so if you're looking for an affordable system, in the long run, a heat pump can do an incredible job of keeping energy costs low.
All Year Comfort
Heat pumps run as both cooling and heating machines. This means you can enjoy sensible air conditioning in the summertime as well as powerful heating in the winter. This can be helpful for homes that are in the market for both a heating and cooling system. Instead of paying upfront for a furnace in the winter and a central air conditioner for the summer, you can pay one low price for two systems in one!
Increasing Affordability
Heat pump technology is just getting more affordable each and every day. Not only that but for a system that used to be a niche in our industry, more and more technicians are beginning to understand how to work with them. That means you can enjoy more competitive prices as years go on, and more HVAC professionals who know these systems well.
Safety
Are you tired of dealing with a gas furnace in the winter? Don't risk issues with leaking gas or carbon monoxide. Heat pumps run on electricity which is energy-efficient and safe as can be. This can be your all-inclusive comfort machine that keeps your family happy all year round.
Call the pros at Ambient Air Solutions to discuss the installation of a heat pump. Simplifying Heating and Cooling.