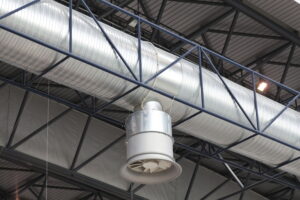 Here in Montana, the winters are long and treacherous. With rainstorms, snowstorms, windstorms, and ice storms, your commercial spaces are dependent on its heating system to keep your customers, tenants, and employees safe and warm.
When it comes to commercial heating in Bozeman, MT, you need a team of NATE-certified technicians with the expertise and experience to effectively service commercial heating systems. 
The needs of commercial heating systems are much different than residential systems. When it comes to their installation, repair, and maintenance, you need an HVAC contractor who's familiar with these complex systems.
Learn why you should never trust a general handyman or residential HVAC company for your commercial heating needs. There's too much riding on the dependability of these systems. 
Safety First
Commercial heating systems are amazing pieces of technology. They're also incredibly complex. There's a strong potential for safety risks with people who don't know how to properly service these systems.
Chemical exposures, respiratory hazards, and electrical problems are some of the safety hazards that can occur when having someone service a system who doesn't know what they're doing.
Professional commercial HVAC technicians like the ones on our team prioritize safety first. No matter what goes wrong with your commercial heating system, our HVAC technicians carry liability insurance that protects you and your business.
That's why you never want to hire a company or handyman who isn't licensed, bonded, and insured. You can count on us to always follow the proper safety measures.
NATE-Certified Technicians
When professional HVAC technicians become NATE-certified, their learning doesn't stop there. Our NATE-certified technicians are required to stay abreast of trends in HVAC technology and must complete continuing education and they work hard to stay relevant in their field.
Choosing a company that employs NATE-certified technicians should be a top priority when deciding on a commercial HVAC contractor.
Reliable Maintenance
Commercial heating systems in Montana are really put to the test. That's why you need a team that knows how to maintain these systems to ensure their peak performance.
Regular, professional heating maintenance is necessary to prevent a commercial heater from wearing down and failing in only a few years. Maintenance also boosts its energy efficiency and prevents repairs and breakdowns. That's why we offer Commercial Savings Programs (CSP) to our business owners.
Reliable Service, 24/7
Is there any more terrifying commercial HVAC emergency than to have the heating system fail during a blizzard on the coldest day of the winter? This can bring the operation of any commercial facility to a grinding halt. What happens if the HVAC company that installed your system isn't available to repair it when you need it most? 
You don't have to worry about that with us. We offer emergency repair service for commercial heating systems 24 hours a day, 7 days a week, including holidays. We always pick up the phone! We always prioritize commercial heating issues to minimize the amount of downtime to your business.
Contact Ambient Air Solutions today for professional commercial heating service. Simplifying Heating & Cooling!