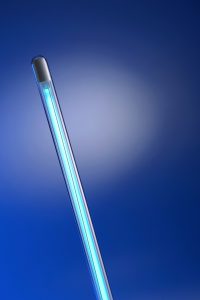 Keeping your home air safe has never been as important as it is now. In light of global health concerns, we found it important to talk about what a UV air purifier and, to a lesser extent, what a HEPA filter can do to support the indoor air quality and cleanliness of your home.
The Fantech HEPA Air Filter
With a Fantech HEPA Air Filtration System, you can filter the air that comes into your home from the outside. HEPA filters are well known for being able to filter 99.9% of all air that goes through your HVAC system, meaning you'll be breathing air that's free of dust, debris, pet dander, and other contaminants.
The Honeywell 24V Ultraviolet Air Purifier
However, if you're looking to stop microbial contaminants from causing harm to you and your family, then a HEPA filter won't be able to do the job. An ultraviolet (UV) air purifier is the system for you.
The Honeywell 24V Ultraviolet Air Purifier runs in your ductwork, using ultraviolet rays and carbon cells to capture odor-causing airborne particles and transform them into harmless water vapor. The germicidal light will destroy germs and mold in your home while reducing volatile organic compounds as well.
Know the Difference
It's important to know the difference between an air filtration system and an air purification system. Our Fantech HEPA Air Filter will filter out particles above a certain size category, but won't do anything about microbial germs and mold spores. The Honeywell 24V Ultraviolet Air Purifier will eliminate said germs and mold spores. An ultraviolet air purifier has a unique advantage when trying to protect your home from microbial organisms that could make you sick.
Contact Ambient Air Solutions to learn more.
---
There is much to consider regarding the COVID-19 virus (Coronavirus) and its possible transmission in your home. While there are various and effective indoor air quality measures available to help protect your safety, including duct sanitization, ultraviolet (UV) germicidal light treatment, and HEPA air filters, they alone cannot protect from all forms of COVID-19 transmission. It is important to follow all official guidelines for preventing the spread of this virus.