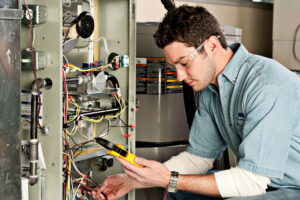 It can be hard to deal with HVAC problems when trustworthy professionals and technicians are hard to come by. We want to trust our family members, friends, and neighbors that have been providing repairs for thirty years. However, with systems getting more complex and some family members throwing out their backs when they try to dive deep into repairing an AC unit, it might be time to change things up.
Let's start with the basics. Trust is the most important aspect of HVAC in Livingston, MT. If you can't trust the person who is going to be working on your air conditioner or heating system, then they shouldn't be anywhere near it.
Today, plainly and simply, we're going show you signs that you can trust a prospective HVAC technician. If they have these qualities or qualifications, then they're most likely a great choice for HVAC work in your home.
Qualities to Trust
We're never going to knock down our competition. If you've got a neighbor or a family friend that's the best technician for your home, then we commend you for having reliable people in your life! However, if you've been struggling to find a trustworthy person to work on your air conditioner, then we're going to list some qualities and qualifications that are important for the job.
Keep in mind, our team has all of these and more. So don't hesitate to call us and schedule an appointment today!
Proper Licensing
HVAC technology must only be operated on by someone with a license. While sure, anyone could open the system up and try to fix a problem on their own, this will likely void your unit's warranty and cause a whole other set of problems.
When you work with a professional that's licensed, you can rest assured that they've got the basic level of training needed to be able to handle your HVAC needs.
Insurance
Working with an insured professional is always a great bonus when it comes to trustworthiness. Insurance means that in the event something goes wrong, you won't be the one that's responsible for the cost. So, sit back and relax, you won't have to lift a finger to ensure your HVAC system is reliably taken care of.
Experience
Sometimes there can be unique situations when it comes to HVAC technology. You want to work with a professional that's seen it all—and that comes with experience. Ask your prospective HVAC technician about their experience in the field and about what they're used to seeing.
Fair Pricing
Are you the kind of customer that likes hearing the price of a job before it gets completed? That's perfectly fine for some HVAC professionals. The truth is that while some might make you feel like that's not a normal HVAC industry practice, there are plenty of pros that will offer an accurate estimate before any work is performed.
When it comes to our team, we will always check with you before we fix something to make sure it falls within your budget. It's unfair and shady to cost you an arm and a leg for a job that wasn't clearly explained.
Call Ambient Air Solutions for a free estimate today. Simplifying Heating & Cooling.